IBM ThinkPad
Available:
October 1992
Model:
300, also 700 and 700C
Price:
US$2,375
Weight:
5.9 lbs
CPU:
Intel 80386 SL @ 25MHz
Memory:
4-16MB RAM
Display:
9.5-inch LCD
640 x 480 graphics
Storage:
internal 3.5-inch floppy
80MB hard drive
OS:
MS-DOS 5.0 or OS/2 2.0
Later, Windows 3.1
IBM ThinkPad notebook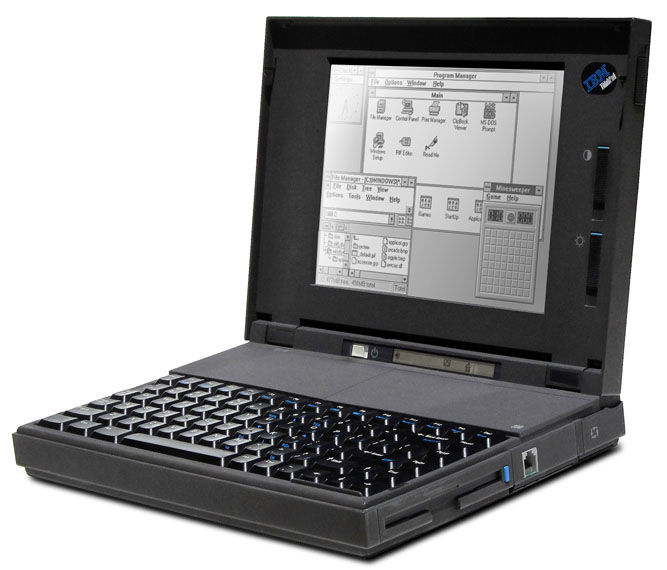 IBM Thinkpad 300 from 1992
As IBM president 1914 to 1956, Thomas J. Watson, Sr. enjoyed using the
phrase "THINK!" to motivate and inspire his employees. This simple word has become deeply embedded in IBM's corporate culture ever since.
Decades later in 1991, the phrase became a product, as the
ThinkPad,
IBM's new pen-based tablet running the PenPoint Operating System.
Announced in April 1992, the ThinkPad tablet was only mildly successful, and
the name was recycled
into IBM's new notebook line of computers, the ThinkPad model 300, 700 and 700C. The original ThinkPad tablet became model 700T.
Although they were not IBM's first line of notebook computers, the new ThinkPad series of notebook computers were an immediate hit,
and collected more than 300 awards for quality and design.
All three models were released at about the same time, ranging from the cost-effective model 300 to the top-of-the-line model 700C (the C is for "color").
Each was housed in an appealing, black, squared-off clamshell case which was like nothing else on the market at the time.
The ThinkPads originally came with Microsoft DOS 5.0
operating system pre-installed, with IBM OS/2 2.0
(also by Microsoft) as the only other option, but later on Microsoft Windows 3.1
was available as a pre-installed operating system as well.
Model
CPU
Weight
Price
Display
300
25MHz 80386 SL
5.9 lbs
$2,375 w/ 80MB HD
$2,575 w/ 120MB HD
9.5-inch, 64 shade monochrome, passive LCD
700
25MHz 80486 SLC
upgradable to 50MHz
6.5 lbs
$2,750 w/ 80MB HD
$2,950 w/ 120MB HD
9.5-inch, 64 shade monochrome, passive LCD
700C
25MHz 80486 SLC
upgradable to 50MHz
7.6 lbs
$4,350 w/ 120MB HD
10.4-inch, 256 colors, active-matrix LCD
Designed and manufactured
for IBM by Zenith Data Systems (ZDS) under an existing contract, the model 300 was somewhat larger and slower than the more full-featured 700
and 700C models. It sold relatively poorly, and the price dropped quickly throughout 1993. At introduction, it was priced at $2,375,
but by February of 1993 it was dropped to $1,999, and then again to just $1,699 by May.
The model 300 lacks it, but the 700 and 700C utilize the TrackPoint controller, a tiny joystick built into the keyboard
in place of a touchpad or a trackball. The user can now reposition the on-screen pointer without moving their hands
from the keyboard.
While the 300 and 700 have modest 9.5-inch passive LCD screens, the model 700C has a beautiful 10.5-inch active-matrix color LCD –
the largest screen available on any notebook computer at the time. The model 300 battery life is an impressive 5:00 hours, while the more
power-hungry 700 and 700C last around 4:15 and 3:30 hours under normal use, utilizing the built-in power-management features.
These early ThinkPad notebooks came with
HelpWare,
IBMs service package which included a one-year warranty, and 24-hour, seven-day assistance by FAX, electronic bulletin board, or toll-free telephone.
Although bought out by Chinese company Lenovo
in 2005, the ThinkPad line of notebooks remains extremely popular with
over 200 different models and
over 60 million notebook computers sold over the decades.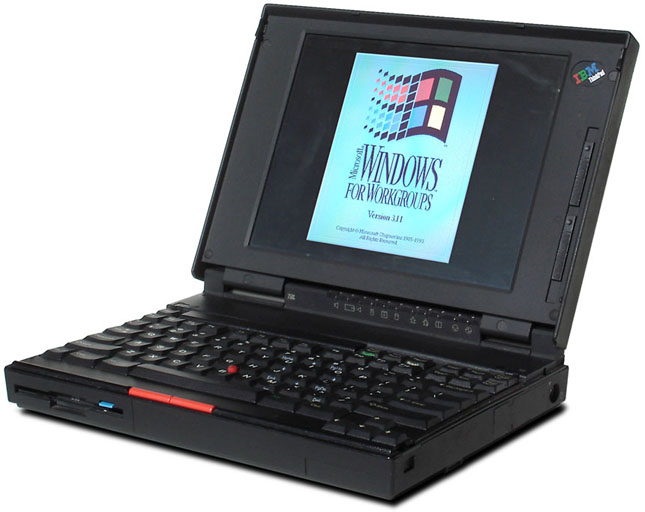 IBM ThinkPad 750C from September 1993
Partial History of the IBM Computers
1967: IBM builds the worlds first floppy disk.
1967: IBM introduces the worlds first 8″ floppy disk.
1973: IBM introduces the IBM 3340 hard disk unit, known as the Winchester.
1975: September – IBM's Entry Level Systems unit unveils "Project Mercury", the IBM 5100 Portable Computer.
1981: September – IBM releases the IBM 5150 PC Personal Computer.
1982: April – Eight months after the introduction of the IBM PC, 50,000 units have been sold.
1982: May – Microsoft releases MS-DOS 1.1 to IBM, for the IBM PC.
1982: June – The first IBM PC clone, the MPC, is released by Columbia Data Products.
1982: August – After one year of production, IBM ships the 200,000th IBM PC.
1982: November – Compaq Computer introduces the
Compaq Portable PC, the first 100% IBM compatible. It cost Compaq US$1 million to create an IBM-compatible ROM BIOS
that did not violate IBM's copyright.
1982: At the West Coast Computer Faire, Davong Systems introduces its 5MB Winchester Disk Drive
for the IBM PC, for US$2000.
1983: March – IBM announces the IBM PC XT, with a 10 MB hard drive,
128KB RAM and a 360KB floppy drive. It costs US$5000.
1983: November – IBM announces the IBM PCjr.
It is US$700 for the bare configuration.
1984: February – IBM introduces the IBM Portable PC.
1984: March – IBM ships the IBM PCjr. It uses the 8088 CPU, 64KB RAM, and one 5.25-inch disk drive, but no monitor. It costs US$1300.
1984: August – IBM announces the PC AT, for US$4000-6700.
1985: April – IBM abandons production of the IBM PCjr.
1986: April – IBM announces the IBM PC Convertible, 80C88-based, 256K RAM, and two 720K floppy disks, for US$2000.
1986: April – IBM discontinues the IBM Portable PC.
1986: September – IBM announces the IBM PC-XT Model
286, with 640KB RAM, 1.2MB floppy drive, 20MB hard drive,serial/parallel ports, and keyboard for US$4000.
1987: IBM discontinues the IBM PC (model 5150) line.

Source:
Chronology of Events in the History of Microcomputers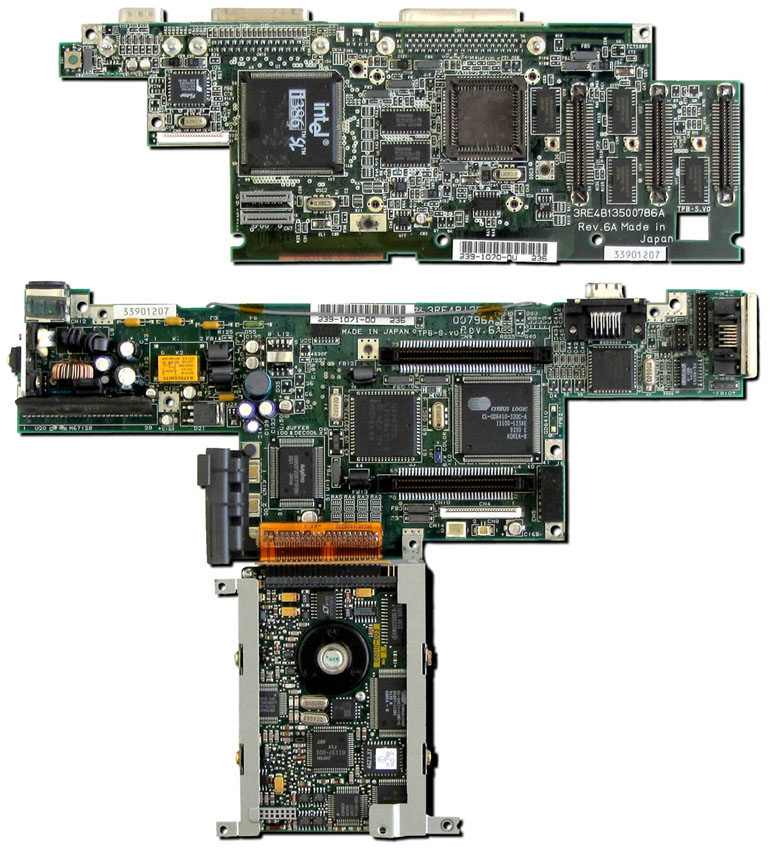 Return to the Obsolete Technology Homepage