Reviews, News, CPU, GPU, Articles, Columns, Other
"or" search relation.
Accessory, AMD, Android, Apple, ARM, Audio, Bay Trail, Business, Cannon Lake, Charts, Chinese Tech, Chromebook, Coffee Lake, Console, Convertible / 2-in-1, Cryptocurrency, Cyberlaw, Deal, Desktop, Fail, Gadget, Galaxy Note, Galaxy S, Gamecheck, Gaming, Geforce, Google Nexus / Pixel, How To, Ice Lake, Internet of Things (IoT), iOS, iPad Pro, iPhone, Kaby Lake, Lakefield, Laptop, Linux / Unix, MacBook, Monitor, MSI, OnePlus, Phablet, Review Snippet, Rumor, Ryzen (Zen), Security, Smart Home, Smartphone, Smartwatch, Software, Storage, Tablet, ThinkPad, Thunderbolt, Touchscreen, Ultrabook, Virtual Reality (VR) / Augmented Reality (AR), Wearable, Whiskey Lake, Windows, Workstation, XPS
Ticker

For the original German review, see here.
As shining as the Lenovo ThinkPad T450s was in our recent test, the premium-range device's price of well over 1000 Euros (~$1077) would not fit in everyone's budget. Fortunately, the manufacturer has a somewhat less costly alternative in its lineup: The ThinkPad T450.
The potential saving is largely based on the slimmed down configuration of the basic models, which are available with Core i3 processors and simple WXGA screens. However, the T450 can be configured just as extensively as the T450s – a few tidbits, such as a Full HD IPS screen, are exclusively reserved for the higher positioned sister model. Our review sample comes from Lenovo's Campus program, and therefore only pupils, students and teachers can buy it. On the other hand, the currently 1150 Euros (~$1240) model can boast with a fast Core i5-5200U, 8 GB of RAM, and a 256 GB SSD. The 14-inch screen has a resolution of 1600×900 pixels, and is powered by the integrated HD Graphics 5500.
Rivals of the ThinkPad T450 are, for example, the Dell Latitude E7450, the HP EliteBook 840 G2, and the AsusPro Advanced BU401LA. Beyond that, we would like to examine whether the price difference to the T450 is appropriate or if the buyer should choose Lenovo's flagship from the outset.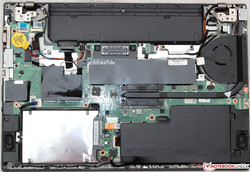 Opened underside
Identical dimensions, identical weight – Lenovo has apparently adopted the casing from the ThinkPad T440 without any modifications. Therefore, we will not reanalyze it and would refer to our review from last year. Unlike the T450s, the T450 has slightly more depth and approximately 150 gram (~5.3 oz) heavier weight, which is due in part to the different casing materials. For example, the display lid is made of GRP (T450) and not the lighter CFP (T450s).
Some innovations are found in a few other aspects when compared with the T440. For example, a USB 3.0 port has been added to the connectivity (same layout as in the T450s), and a second DDR3 slot has been installed inside the casing. The T450 even stands out from the T450s with this. The latter has only one slot and 4 GB of soldered memory.
Last but not least: Of course, the T450 also features the revised UltraNav unit, comprised of touchpad and TrackPoint including dedicated keys, common to all 2015 ThinkPad models. More details about it can also be found in our review of the T450s.
T450 buyers can choose from three different 14-inch screens that are all based on low-cost TN technology. A WXGA screen with 1366×768 pixels 200 cd/m², 350:1, 112 ppi) marks the start, followed by the WXGA++ model with 1600×900 pixels (250 cd/m², 400:1, 131 ppi) that we are testing. Lenovo also has a touchscreen version of the latter screen, which however not only boosts the price, but also the laptop's weight and thickness. Furthermore, the additional touchscreen layer reduces the screen's brightness (212.5 cd/m²).
Unfortunately, the brightness rates promised by the manufacturer do not have much in common with reality. Rather than 250 cd/m², we only measured a modest 163 cd/m² in our review sample – more than just a slight deviation. Additionally, the backlight does not illuminate the entire screen evenly. Instead, it gets markedly weaker from top to bottom. The screen exhibits some weak PWM flickering when the brightness is reduced; but it is unlikely that most users would notice this. We needed a 60 fps video clip as proof.
Despite the screen's anti-reflective surface, we cannot recommend the T450 for outdoor use. The far too low maximum brightness makes legibility difficult in the shade; the content is only vaguely recognizable in direct sunlight. Therefore, our review sample takes the last place in our comparison round – an extremely embarrassing presentation considering the four-figure purchase price.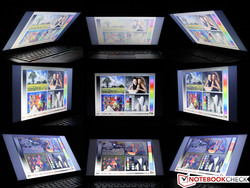 Viewing angles: Lenovo ThinkPad T450-20BV001VGE
The user will only find a true reproduction when looking straight at the screen. The slightest deviation, particularly upward or downward, leads to an intense contrast loss and/or inverted colors. This often results in an extremely annoying restriction, which again reinforces our call for a viewing angle stable, bright and high-contrast IPS screen.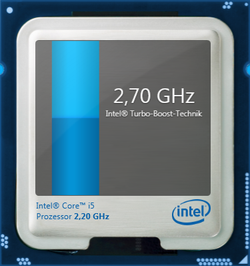 2.7 GHz maximum Turbo clock rate
Intel's Core i5-5200U is the successor of the popular Core i5-4200U and Core i5-4210U Haswell models. As well as marginally higher clock rates ranging from 2.2 to 2.7 GHz (2 cores: 2.5 GHz), the dual-core chip also offers approximately 5% higher per-MHz performance thanks to the optimized Broadwell micro-architecture. Despite the new 14 nanometer manufacturing process, the nominal TDP of 15 watts remains unchanged. More information and benchmarks can be found in our CPU database.
Lenovo does not provide dedicated graphic solutions for the ThinkPad T450. Thus, the integrated HD Graphics 5500 has to take care of video output. The HD 5500 is located in the low-end sector, although it now has 24 EUs rather than 20 execution units (HD Graphics 4400, Haswell), and supports the latest DirectX 11.2 API. There are undoubtedly better alternatives for up-to-date 3D games.
Our review sample excels with a 256 GB SSD and 8 GB of DDR3L-1600 RAM in terms of memory configuration. The manufacturer only fills one of the two DIMM slots, which facilitates upgrade intentions, but also forces the memory controller in the slower single-channel mode. As with other Broadwell laptops, the T450 also works seamlessly with (unfortunately still very pricey) 16 GB modules. Consequently, it would principally be possible to upgrade the RAM up to 32 GB.
Overall, the combination of a fast-reacting SSD and fast processor ensure an extremely responsive system that easily copes with common office applications. Thanks to its 8 GB of RAM, the T450 has enough reserves for multitasking. However, the two cores in the Core i5-5200U will find their limits sooner or later. At least the CPU with a TDP of only 15 watts achieves roughly the same performance as a 35-watt Core i5-3210M from 2012 – the T series has not become much faster in the past three years, but it is now more energy efficient and mobile. It is in the eye of the beholder whether this development is positive or negative. Fortunately, Lenovo has a suitable alternative for performance junkies in its portfolio with the ThinkPad T440p.
The T450 places itself on par with HP's EliteBook 840 G2 in the synthetic benchmarks, while the Latitude E7450 and the ThinkPad T450s with a stronger processor manage a slight lead. The AsusPro BU401LA surprises with the best PCMark 7 score, but lags far behind in the newer PCMark 8 – a behavior that we do not really understand, but which might be due to a different weighting of single performance factors.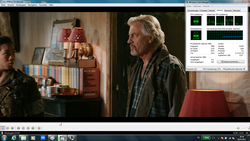 4K, H.265: smooth rendering during medium CPU load
As the middle option, also known as GT2, of the Broadwell GPU, the HD Graphics 5500 (24 EUs) is exactly located between the HD Graphics (GT1, 12 EUs) and HD Graphics 6000 (GT3, 48 EUs). The GT1 version is exclusively found in Celeron and Pentium processors, and the GT3 version is reserved for only a few Core i5 and Core i7 models.
Unlike our previous T440 review sample, the T450 in this article competes with only one memory module, which lessens the 3D performance by approximately 20%. This corresponds roughly to the performance difference between the HD Graphics 4400 and HD Graphics 5500 – or in other words: An HD 5500 with a single-channel interface cannot outrun the HD 4400 with a dual-channel memory.
However, the ThinkPad can be entrusted with multimedia tasks and simple 3D applications without any hesitation, and even smaller CAD projects are possible with some concessions. For anything beyond that, a laptop with a dedicated GPU is recommended – even absolute low-end solutions, such as a GeForce 820M, are often 50% faster in synthetic benchmarks.
System Noise
Modern ULV processors with such a low consumption level in idle and partial load have made an active cooling superfluous. This is also true for our ThinkPad. The fan is almost never enabled in everyday use and the system is completely silent. However, this is only the case when a configuration without mechanical storage devices is selected.
During the full load, the cooling starts up after a while, and reaches a maximum of 35 dB(A). Although the T450 is slightly louder than the T440 (max. 33.5 dB(A)) or the EliteBook 840 G2 (max. 34.2 dB(A)), the laptop can also be described as extremely quiet and not at all distracting.
32.4 °C
90 F
32.1 °C
90 F
30.3 °C
87 F
35.8 °C
96 F
34.8 °C
95 F
29.7 °C
85 F
30.6 °C
87 F
31.3 °C
88 F
29.3 °C
85 F
Maximum: 35.8 °C = 96 F
Average: 31.8 °C = 89 F
30.8 °C
87 F
34.3 °C
94 F
31.6 °C
89 F
29.5 °C
85 F
47 °C
117 F
29.9 °C
86 F
29.8 °C
86 F
31 °C
88 F
28.1 °C
83 F
Maximum: 47 °C = 117 F
Average: 32.4 °C = 90 F
Power Supply (max.) 49.3 °C = 121 F | Room Temperature 20.5 °C = 69 F | Extech Power Analyzer 380803
27.4 °C
81 F
28 °C
82 F
29.7 °C
85 F
28.7 °C
84 F
28.5 °C
83 F
30.3 °C
87 F
26.5 °C
80 F
27.3 °C
81 F
27.6 °C
82 F
Maximum: 30.3 °C = 87 F
Average: 28.2 °C = 83 F
30.2 °C
86 F
29.5 °C
85 F
29.5 °C
85 F
29.5 °C
85 F
31 °C
88 F
28.8 °C
84 F
27.4 °C
81 F
26.9 °C
80 F
26 °C
79 F
Maximum: 31 °C = 88 F
Average: 28.8 °C = 84 F
Power Supply (max.) 31.4 °C = 89 F | Room Temperature 21.4 °C = 71 F | Fluke 62 Max
(+) The average temperature for the upper side under maximal load is 31.8 °C / 89 F, compared to the average of 29.4 °C / 85 F for the devices in the class Office.
(+) The maximum temperature on the upper side is 35.8 °C / 96 F, compared to the average of 33.9 °C / 93 F, ranging from 21.2 to 62.5 °C for the class Office.
(-) The bottom heats up to a maximum of 47 °C / 117 F, compared to the average of 36.4 °C / 98 F
(+) In idle usage, the average temperature for the upper side is 28.2 °C / 83 F, compared to the device average of 29.4 °C / 85 F.
(+) The palmrests and touchpad are cooler than skin temperature with a maximum of 31.3 °C / 88.3 F and are therefore cool to the touch.
(-) The average temperature of the palmrest area of similar devices was 28.2 °C / 82.8 F (-3.1 °C / -5.5 F).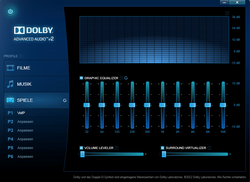 Audio settings
Lenovo seems to have largely adopted the integrated stereo speakers from the precursor. The very loud and clear sounding speakers are sufficient for simple purposes like Skype. However unfortunately, the playback lacks the desired emphasis in the bass range. Compared with other office laptops, the ThinkPad only does an average job, and the user should consider connecting an external sound system via the jack when required. The audio signal can also be rendered digitally via the mini-DisplayPort.
Power Consumption
Where the T440 still had a minimum idle requirement of 4.1 to 9.7 watts, the T450 is satisfied with just 3 to 6.4 watts. However, it would be wrong to ascribe the entire saving to the new Broadwell platform – the brighter screen and the conventional hard drive in the T440 are probably responsible for most of this difference.
The consumption skyrocketed to just over 40 watts for about 30 seconds only to drop just below 30 watts again during load. This decrease is due to the onset of the TDP limitation: The Core i5 can temporarily take in considerably more than the specified 15 watts, provided that certain parameters are fulfilled (temperature, time limit). The included power supply with a maximum output of 45 watts seems sufficiently sized.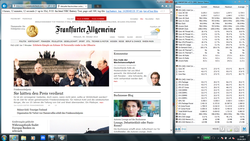 Impressive efficiency: the CPU's average consumption of 2 watts in the Wi-Fi test.
The T450 uses the same battery system as its T450s sister model. Rather than installing one large battery, Lenovo opts for two smaller units, one of which is screwed inside the casing (24 Wh) and the other inserted in the laptop's rear (24 Wh; 48 or 72 Wh optionally available). The advantage of this solution: Hot-swapping the external battery is possible, i.e. the laptop does not have to be shut down. Thus, the ThinkPad has a total of 48 Wh of electrical power available, which is slightly less than the Latitude E7450 (54 Wh) or the EliteBook 840 G2 (50 Wh).
The low power consumption actually gives hope for long battery runtimes, which is only the case in the idle mode (energy saving mode, minimum brightness, Wi-Fi off). In our Wi-Fi and H.264 assessments, practical partial load and adapted screen brightness (approximately 150 cd/m²), the T450 shut down after a little over 5 hours – a rather below average result in the comparison round. It took 3 hours for the completely depleted batteries to be fully recharged.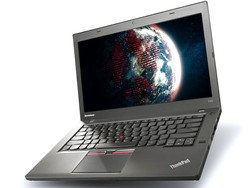 Lenovo ThinkPad T450. Test model courtesy of campuspoint.de
You get what you pay for – admittedly, the saying is a bit hackneyed and the ThinkPad T450 is definitely not a product that earns the label "cheap". Nevertheless, a grain of truth is found: Lenovo's decision to install such a low-quality screen in a laptop with a price tag of over 1000 Euros (~$1077) – and that probably just to justify the even higher price of the T450s – is difficult to comprehend.
The extremely disappointing TN screen is even more aggravating because the T450 barely gives reason for complaint. Its casing, connectivity and input devices hardly differ if at all, from its more expensive sister model. In addition, the noise and temperature development range on a comparably low level. Beyond that, our review sample shines with a very balanced configuration comprised of a Core i5 processor, 8 GB of RAM and SSD that represent a healthy compromise of performance and costs. The battery life could be slightly better, but this drawback can easily be solved at relatively low expense with a larger battery.
In a nutshell, the ThinkPad T450 might be interesting for those buyers who work at home and have an external monitor at hand.
We would warmly recommend everyone else to accept the surcharge for the T450s or to look at the competition from HP or Dell. Both competitors are (at least optionally) available with bright, high-resolution and viewing angle-stable IPS screens, and can compete with the quality of the ThinkPad lineup.