Upgraded Professionalism. The 2012 refresh of the X220 may look the same on the outside, but the X230 is the first in the 12.5-inch lineup to introduce both the an Ivy Bridge CPU and the new "Precision" Chiclet keyboard in place of the traditional beveled design. Has Lenovo hit a home run? Or is the backlash against the new keyboard design really warranted?

When it was revealed back in 2008, the Lenovo ThinkPad X200 series was striving to offer the same high-quality ThinkPad feel and experience for the first time in an extremely small but portable 12-inch size. The original X200, however, lacked numerous built-in connectivity options and may have potentially turned off the same business users that it was attempting to attract.
Fast forward to today and the ThinkPad X200 series has now become the de facto notebook for business users alike looking for a 12-inch secondary or even primary notebook. The launch of the ThinkPad X220 last April was highly lauded by reviewers as worthy of the ThinkPad name despite the minute size. In our last review, we particularly praised the X220 for its sturdy case, low noise, long battery life and for having one the most impressive displays for its size class.
The ThinkPad X230 updates the lineup not with brand new looks, but with the new Precision Keyboard layout and the all-important Ivy Bridge chipset under the hood. Otherwise, exterior qualities remain largely the same as last year's model. Although seemingly trivial at first glance, these two changes directly affect the user experience and can actually make the X230 feel like a different beast compared to the X220 despite their similarities. In this review, we investigate the changes both inside and out and give our final thoughts on the rather controversial keyboard update.
Lenovo decided to take the "if it ain't broke, don't fix it" approach to the design of the X230. Indeed, the 2012 model is every bit as similar to the 2011 model at first glance, but the manufacturer has managed to shave off a third of an inch from the 34.6mm (1.36 inches) rear end of the previous model to just 26.6mm (1.05 inches) in the latest offering. The thickness of the front edge remains at 19mm, meaning that users will be getting the same resistant chassis but in a sleeker and somewhat lighter (1.34kg vs. 1.54kg) package. It's still stocky to be sure, and users will still need both hands to open the lid, but the classic ThinkPad professionalism and appearance are unmistakably preserved.
It's true that Ultrabooks have since risen into the scene and now competes with the X230 to some extent. The ThinkPad X220 faced no such problems during its launch, but we can say with confidence that although the Intel ultrathins are much thinner, lighter and more stylish than the conservatively built ThinkPad, the construction of the latter is in a class of its own and even maintains around the same level of portability. The magnesium alloy chassis is thick, the dual hinges are firm with little to no vibration and both the case and lid experience little to no side-to-side twisting or creaks.
But since the all-matte design has remained essentially unchanged, a few issues we found on the previous model have yet to be amended. Aside from the notebook being a complete fingerprint magnet, the left palm rest is still noticeably more susceptible to finger depressions due to the hollow ExpressCard slot immediately underneath and the textured outer lid sinks slightly when pressure is applied. Fortunately, the cheap-feeling ThinkVantage bar of the X220 is now a part of the keyboard for better stability and no wobbling issues. As for the warping display border, we experienced no such issues when using the notebook outdoors under 80 degrees F (27 C) weather.
For a full walkthrough of the quality of the case, see our review on the previous X220. But in short, you'd be hard pressed to find a consumer-oriented 12-inch notebook with similar construction quality and connectivity options. It's worth noting that the new Samsung Series 4 directly challenges the ThinkPad in terms of exterior build and longevity, but users who go for the latter option will give up certain important performance advantages that the X230 offers.
For connectivity, the X230 is littered with the same options as its older sibling as expected. In other words, the notebook offers more connections than what its small size would otherwise suggest.
Three USB ports are included just like the X220, but two of these ports are now standard USB 3.0 ports regardless of configuration. Apart from that, all physical ports can all be found exactly where they were on the 2011 model. They are easy to reach as none are on the back and most are close to the front of the side edges. Unfortunately, this also means that cables can more easily entangle the user if multiple devices are connected simultaneously. The Gigabit Ethernet port is also still oddly positioned up front instead of its more typical location further back.
A downside of having so many available ports on such a small notebook is the issue of space. For example, connecting a USB device with a thick plug can potentially block access to adjacent ports. For example, utilizing the ExpressCard slot can easily make both the USB 3.0 port and WiFi switch underneath very difficult to reach. Still, we're appreciative that these ports are available to begin with and we definitely welcome their company despite the tight legroom. eSATA and HDMI ports are most notably missing, but users can always invest on an aftermarket DisplayPort-to-HDMI adapter. Although not configured into our test unit, certain models can also be equipped with a SmartCard reader.
We tested the aging VGA-out port to confirm if the same display quality issues we found on the X220 had carried over. Fortunately, text and colors appear crisp on two separate external monitors at the tested native resolutions of 1280×1024 and 1920×1200 pixels, respectively.
Communication
Our X230 review unit only came equipped with the standard single-band (2.4GHz) 2×2 dual-stream Centrino Wireless-N 2200 adapter for WiFi, WiDi and Bluetooth 4.0 connectivity. However, users can preconfigure the system with a WWAN PCI-e Minicard to support Gobi 3k 14.4 Mbps/HSPA or even Gobi 4k LTE under Verizon's wireless network. Those who wish to take advantage of AT&T's network can opt for the Ericsson HSPA+ WWAN PCI-e Minicard instead, which will work on both WCDMA/HSPA+ and GSM/EDGE networks here in the States. WiMAX users aren't left out either as the Intel WiFi card can be upgraded to support WiMAX 6250 and its multi-band streams. In short, Lenovo has gotten all WWAN bases covered even before the end-user has a chance to add in an aftermarket PCI-e Minicard.
Fortunately, users can still swap out cards quite easily if need be by opening up keyboard and palm rest plate with a Philips screwdriver. The HDD and RAM are even more accessible and only require removing a couple of screws underneath.
Accessories
Lenovo has a history of supporting their core ThinkPad lineups with vast options and accessories in an attempt to satisfy the broadest range of business users out there. As a result, expect plenty of quality first-party extensions both by USB and docking port. Perhaps the most notable USB-powered accessory is the ThinkVision LT1421 – essentially a portable 14-inch external monitor powered solely by USB 2.0.
The X230 is backwards compatible with all docking stations supported by the X220 as both models share identical docking ports. Lenovo docking stations have one of the biggest selections of ports, including VGA, 2x DVI, 2x DisplayPort and 6x USB 2.0 from the Mini Dock Plus port alone. The Ultrabase Series 3 adds an Ultrabay for hot-swapping optical drives and secondary HDDs. Users simply looking for longer battery life can practically double runtime with a slim secondary battery similar to the secondary battery "slice" modules that certain Sony VAIO models offer. The wide selection and compatibility options make the X230 feel more easy-to-use and capable than many similarly-sized competing business notebooks.
Lenovo's Service is standard with a warranty of up to one year, but can be extended up to five years total for $160. The usual onsite or next business day repair and accidental damage protection services are optional coverage as well and will add $90 – $100 to the warranty, at least in the United States. A "no questions asked" battery replacement plan for up to four years is available as a separate warranty plan for $139.
Keyboard
After years of having the same keyboard design across their ThinkPad lineup, Lenovo will this year be introducing its new (and mandatory) Precision Keyboard to many of its latest model revisions including those of the popular L, T, X and W series. The keyboards of the ThinkPad X1 or Edge E420s released in mid-2011 can be considered precursors to the new design and may be something that veteran ThinkPad users may not be very fond of at first glance.
The classic beveled keyboard layout typically associated with ThinkPads has been completely dropped in favor of a Chiclet-style build (29.0cm x 11.5cm) that now more closely resembles other keyboards found in other notebooks. The flat, evenly-spaced keys are quite an odd sight to see on an otherwise traditional ThinkPad. According to Lenovo, one of the reasons for the change is that the more modern island design allows for a larger target area per key, which should theoretically lead to fewer errors while typing.
In our opinion, the new setup does indeed feel more streamlined and clean and even less cramped, although fingerprints will build up quickly. Clatter has also been reduced, but we found the keys to be a bit softer (especially the top row F keys) than what veteran ThinkPad users may be used to. Nonetheless, key depth is still adequate and feels deeper than most other Chiclet keyboards even on larger notebooks.
Perhaps the greatest benefit of the chiclet style is that it allows a keyboard backlight. Although only two levels of brightness are user-controllable on the X230, the backlight is nonetheless very bright and will surely be welcomed by ThinkPad fanatics. The trademark ThinkLight feature remains as well, although the notebook does not allow both the backlight and ThinkLight to be active simultaneously.
Touchpad
Traditionalists will be pleased to hear that the tried and true ThinkPad touchpad remains more or less the same on the X230. The textured touch-sensitive surface curves downward on both the bottom and top and is overall quite small (7.5cm x 4.5cm) since some room was reserved for the dedicated left- and right-click keys immediately above. Oddly enough, both of these keys are now flatter with no curved recesses as opposed to the X220, a design decision that mimics the touchpad of the X121e in appearance. Users can even ignore the dedicated click keys altogether as the touchpad surface itself is clickable.
In terms of functionality, the touchpad works generally well. Single-touch use is responsive and works as intended, but multi-touch gestures like pinch-to-zoom or even two-finger scrolling do not register dependably. The dedicated click keys are near silent when pressed, but the tactile feedback is rather soft and spongy instead of firm as a result. Clicking on the touchpad surface provides shallow but satisfying tactile feedback and is actually very quiet as well. As with most clickable touchpads however, the upper half on the surface area is much harder to click on than on the bottom half. Of course, the reliable TrackPoint returns unaltered and functions just as consistently as it has been for years.
There is still room for improvement in terms of multi-touch capabilities and tactile feedback, but the surprisingly quiet touchpad works just fine and swiftly for basic needs.
The 12.5-inch matte IPS display supports a native resolution of 1366×768 pixels, which we found to be just fine considering the sub 13-inch screen size. The X230 is available with a standard TN panel as well, but it'd be difficult to move back to regular TN displays after experiencing the advantages of an IPS panel. Lenovo claims up to 300 nits and 200 nits of brightness with the IPS and TN panels, respectively. Subjectively, text and images appear clear and crisp without oversaturating colors as some glossy displays might do.
Before we move on, it's worth noting that the display panel (ID: LEN40E2, Model: LP125WH2-SLB1) in our review unit is exactly the same as the display panel of our reviewed X220. Therefore, the measured monitor data below should be quite similar to our results from the X220 review.
We tested maximum brightness with a Gossen Mavo-Monitor and recorded a peak of 280 nits or a tad below the claimed 300 cd/m2 maximum. Lenovo makes up for this by having excellent black levels and thus a very respectable contrast ratio for better movie and gaming experiences. Maximum brightness does not take a dip when the notebook is unplugged either, which could not be more important for a notebook designed to be used on-the-move. Most users may find themselves settling for a brightness level of 11/15 or greater when using the notebook under typical indoor ambient lighting conditions.
256
cd/m²
270
cd/m²
254
cd/m²
271
cd/m²
280
cd/m²
260
cd/m²
263
cd/m²
254
cd/m²
265
cd/m²
Distribution of brightness
Gossen Mavo-Monitor
Maximum: 280 cd/m² Average: 263.7 cd/m²
Brightness Distribution: 91 %
Center on Battery: 280 cd/m²Contrast: 1037:1 (Black: 0.27 cd/m²)
With the XRite i1, the display of the X230 showed a gamut volume of about 66 percent of the sRGB standard. While not incredible, the color reproduction of the display is in line with its close competitors and is slightly better than most budget TN panels. Generally speaking, typical business users should find the gamut range perfectly acceptable as only professional graphic artists will find the X230 not suitable for meticulously accurate colors for heavy digital graphics work.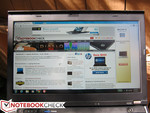 Screen under direct sunlight
Even though the panel doesn't reach the claimed 300 nits, an average brightness of above 200 nits is in our eyes the bare minimum for outdoor notebook use. Fortunately, the X230 is certainly usable outdoors, but users may have to turn the brightness up to its maximum for comfortable viewing. Glare is hardly a problem as well due to the matte display and the IPS screen means multiple users can easily view onscreen material simultaneously, even when outdoors. However, brightness could have been better as other ultraportables like the Asus UX31 or Samsung 900X3B can be much brighter for potentially better outdoor usability than the X230.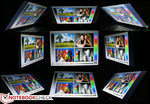 Viewing stability ThinkPad X230
The IPS display provides very wide viewing angles similar to the X220 and continues the tradition of having one of the best displays in the subnotebook category in terms of viewing stability. Viewing even from extreme angles is possible, although slight drops in apparent brightness can occur. Regardless, one of the draws of an IPS display is its ability to allow multiple viewers from wider angles without experiencing apparent shifts in display color. Although users can equip the X230 with a TN panel, the IPS option is a worthwhile investment.
As part of Lenovo's 2012 lineup, the X230 uses Intel's third generation Core ix CPU as expected. Our specific model on hand uses the new 2.6GHz Core i5-3320M, but users can upgrade to a 2.8GHz Core i5-3360M or a 2.9GHz i7-3520M or even downgrade to a 2.4GHz Sandy Bridge i3-2370M if need be. Either way, all options are standard-voltage dual-core CPUs, meaning there will be no corners cut in terms of performance in favor of potentially lowering system temperatures.
The i5-3320M supports Turbo Boost and Hyper Threading like its 32nm bigger brother at a 35 watt TDP. Turbo Boost allows a maximum of up to 3300MHz and 3100MHz for single-core and multi-core operations, respectively.
Being an Ivy Bridge CPU, the dual-core i5-3320M has the built-in integrated Intel HD 4000 GPU. This successor to the Sandy Bridge Intel HD 3000 has been extensively tested here on Notebookcheck, although we will continue to update our gaming benchmarks with more data as the GPU is relatively new to the scene. In the X230, the integrated Intel will normally idle at 350MHz, but Turbo Boost will bump the GPU all the way to 1200MHz if the application demands while the memory bus is a constant 800MHz in comparison. For more information on the HD 4000, see its dedicated benchmark page here.
4GB DDR3 RAM is provided by Samsung in one module out of the two slots available. Unlike most Ultrabooks, the RAM is not soldered and is easily upgradeable on the consumer end. DPC Latency Checker also recorded no periods of high latency even with WiFi active.
System information Lenovo ThinkPad X230
Processor
In the synthetic CPU-oriented benchmarks, the i5-3320M is toe-to-toe with many mid-range Sandy Bridge CPUs and even some high-end ones depending on the benchmark. For example, the 3DMark 06 CPU score (3807) in the X230 is extremely close to the dual-core 2.7GHz i7-2620M in both the Lenovo G770 and Fujitsu Lifebook S761 notebooks and we found similar results in both the 32-bit and 64-bit single/multi CineBench rendering tests. The single-threaded Super Pi test showed results comparable to the i7-2640M in the ThinkPad X1 while the multi-threaded wPrime test had results closer to the i5-2430M in the MSI GE620DX-443XPL. We also tested encoding speeds with the X264 HD 4.0 Benchmark and went away with final scores similar to an i7-2640M yet again. Even without further benchmarks, the new i5-3320M has proven itself as more than sufficient for everyday browsing applications and even capable of more CPU-intensive tasks.
Overall performance from the synthetic GPU benchmarks isn't as impressive as the CPU, but scores are nonetheless good for an integrated graphics chip. The 3DMark 11 scores in particular put the Intel HD 4000 in the same ballpark as the entry-level GeForce 610M and Radeon HD 6470M while the 3DMark Vantage GPU score places the Intel chip between a Radeon HD 6680G2 and a GeForce GT 525M. Performance in older 3DMark benchmarks, however, appear to indicate performance levels closer to an HD 3000 in applications based on DirectX 9 or below.
Cinebench R10 Rendering Single 32Bit
4292
Cinebench R10 Rendering Multiple CPUs 32Bit
9505
Cinebench R10 Shading 32Bit
5081
Cinebench R10 Rendering Single CPUs 64Bit
5380 Points
Cinebench R10 Rendering Multiple CPUs 64Bit
11505 Points
Cinebench R10 Shading 64Bit
5209 Points
Cinebench R11.5 OpenGL 64Bit
13.3 fps
Cinebench R11.5 CPU Multi 64Bit
3.06 Points
Help
System Performance
We use PCMark 7 and PCMark Vantage to assess general system performance. Final scores are impressively high for a 12.5-inch subnotebook at 2880 and 8503 points in PCMark 7 and Vantage, respectively. In fact, these scores put the X230 extremely close to the high-end Asus G74SX (8553 in Vantage) and MSI GT70 (2875 in PCMark 7), both of which sport quad-core Sandy Bridge CPUs and discrete GeForce GPUs. However, these two benchmarks are notorious for skewing final results in favor of SSD-based systems, so certain lower-spec notebooks like the Samsung 900X3B (3609 and 10111 in PCMark 7 and Vantage, respectively) can still outscore even more powerful systems that are bogged down by traditional HDDs. SSD options for the X230 are available, but our review unit is equipped only with a single HDD.
5.1
Windows 7 Experience Index
Processor
Calculations per second
7.2
Memory (RAM)
Memory operations per second
5.9
Graphics
Desktop performance for Windows Aero
5.1
Gaming graphics
3D business and gaming graphics
6.4
Primary hard disk
Disk data transfer rate
5.9
PCMark Vantage Result
8503 points
PCMark 7 Score
2880 points

Help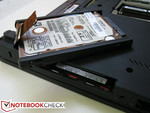 The HDD is easily accessible from the side
Mass storage
Speaking of traditional HDDs, our X230 under review came equipped with a 320GB 7200RPM Hitachi TravelStar and nothing more. Lenovo does offer multiple SSD options before purchasing, including a 32GB mSATA drive and even SATA III SSDs from 128GB up to 256GB. Although expensive, an SSD upgrade is perhaps the most palpable upgrade one can have for the X230, second only to the IPS display.
We also found no problems when installing our own mSATA SSD into the X230. In this case, we installed a 60GB Renice X5 SSD with no issues as Windows was able to recognize the secondary drive. In theory, users should be able to install and boot Windows 7 on the mSATA drive for even faster speeds than with a standard HDD. Note, however, that there is only one PCI-e slot for either an mSATA drive or a WWAN card – both cannot be installed simultaneously in the X230.
Average transfer speeds with the Hitachi drive approach 87MB/sec according to HDTune, much better than typical 5400RPM drives that often score 80MB/sec or below. Although good, the Hitachi isn't the fastest 7200RPM drive out there as some high-end notebooks have HDDs reaching 90MB/sec or above. The 750GB Hitachi in the HP Envy 15, for example, had an average transfer rate of 92.7MB/sec with a small edge in access time as well. For our extensive and growing table of HDD/SSD performance benchmarks, see here.
Of the theoretical 320GB maximum, 13.6GB is reserved for system recovery and 282GB is left available in the default (C:) drive.
3DMark 03 Standard
9894 points
3DMark 05 Standard
7408 points
3DMark 06 Standard
4324 points
3DMark Vantage P Result
3198 points
3DMark 11 Performance
627 points

Help
Gaming Performance
The Intel HD 4000 provides a noticeable increase in gaming frame rates over the previous HD 3000 of the Sandy Bridge generation. While no one is expecting amazing performance in 3D graphics, the integrated Ivy Bridge GPU allows the X230 to play most recent 3D games on the move, albeit in low detail settings. In fact, Skyrim is now playable at just under 30 FPS, whereas the older HD 3000 had much more trouble running the popular Bethesda RPG even on low settings. The low native resolution of the system also mean that certain games can be playable up to medium settings if need be.
But this is still an integrated graphics solution, so demanding games like Alan Wake and by extension Battlefield 3 are not recommended even at their lowest settings.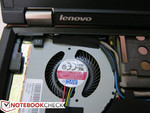 5V system fan underneath the keyboard
System Noise
At its default settings, the X230 is subjectively very quiet (~31.5dB) and almost inaudible when in the office and around typical ambient noises. Fan speed does not appear to unexpectedly increase or decrease while browsing the web, watching videos or word processing, and is always a steady but virtually unnoticeable hum during typical daily workloads. The spinning hard drive is also hardly noticeable at all.
When under maximum stress, noise levels can increase to be a bit louder than the original X220 at up to 39dB. While such a level won't typically be reached during normal activity, using the X230 for intensive games or programs that stress both the CPU and GPU simultaneously can force the fan to spin at maximum speeds. Fortunately, fan speed will drop down to its lowest level quite quickly once the intensive application ceases.
Unlike our X220 review unit, our X230 did not experience odd fan speed issues that were plaguing models with BIOS version 1.15 or below. Our review unit came installed with the Lenovo G2ET28WW BIOS version 1.08. In general, we don't see system noise becoming an issue for its intended audience.
Noise Level
Idle

31.3 / 31.6 / 31.7 dB(A)

Load
36 / 38.9 dB(A)

30 dB
silent

40 dB(A)
audible

50 dB(A)
loud

min:

, med:

, max:

BK Precision 732A (15 cm distance)
Temperature
To put bluntly, surface temperatures of the X230 are on average noticeably warmer than the X220 under both idle and stressed conditions. For example, the keyboard surface and palm rests stay well above 30 degrees C, especially towards the edge closest to the vent. The bottom surface is even more extreme as we recorded a high of about 38 degrees towards the rear, simply from idling! Ambient temperature during our measurements was a warm 24 degrees C.
As one may expect, high idle temperatures lead to high load temperatures. We stressed the system with Prime95 and FurMark for well over an hour before recording the final surface temperature on each of the 18 quadrants. The areas closest to the processors reached just above 40 degrees C on the top surface and about 46 degrees C on the bottom – too warm for our tastes. For comparison, the original X220 reached a maximum of only about 31 degrees and 43 degrees when idle and under load, respectively. The new model isn't uncomfortable to the touch during regular use, but we do wish it could have run cooler because of its intended portability. Note that our temperature stress test is not representative of everyday use as users will not typically run at both maximum CPU and GPU loads.
41.2 °C
106 F
40 °C
104 F
32.6 °C
91 F
42.6 °C
109 F
40.2 °C
104 F
33.2 °C
92 F
37.2 °C
99 F
34.6 °C
94 F
30.6 °C
87 F
Maximum: 42.6 °C = 109 F
Average: 36.9 °C = 98 F
36 °C
97 F
44.6 °C
112 F
46.8 °C
116 F
37.2 °C
99 F
41.6 °C
107 F
46 °C
115 F
35.4 °C
96 F
41.2 °C
106 F
40.6 °C
105 F
Maximum: 46.8 °C = 116 F
Average: 41 °C = 106 F
Power Supply (max.) 54.6 °C = 130 F | Room Temperature 22 °C = 72 F | Fluke 62 Mini IR Thermometer
34.8 °C
95 F
35.2 °C
95 F
32.8 °C
91 F
35.2 °C
95 F
35.2 °C
95 F
31.4 °C
89 F
34.2 °C
94 F
32.6 °C
91 F
30.4 °C
87 F
Maximum: 35.2 °C = 95 F
Average: 33.5 °C = 92 F
35.4 °C
96 F
38.8 °C
102 F
38.6 °C
101 F
35.4 °C
96 F
36.8 °C
98 F
37.6 °C
100 F
33.6 °C
92 F
35 °C
95 F
36.8 °C
98 F
Maximum: 38.8 °C = 102 F
Average: 36.4 °C = 98 F
Room Temperature 22 °C = 72 F | Fluke 62 Mini IR Thermometer
(±) The average temperature for the upper side under maximal load is 36.9 °C / 98 F, compared to the average of 30.7 °C / 87 F for the devices in the class Subnotebook.
(±) The maximum temperature on the upper side is 42.6 °C / 109 F, compared to the average of 35.8 °C / 96 F, ranging from 22 to 57 °C for the class Subnotebook.
(-) The bottom heats up to a maximum of 46.8 °C / 116 F, compared to the average of 40.1 °C / 104 F
(±) In idle usage, the average temperature for the upper side is 33.5 °C / 92 F, compared to the device average of 30.7 °C / 87 F.
(±) The palmrests and touchpad can get very hot to the touch with a maximum of 37.2 °C / 99 F.
(-) The average temperature of the palmrest area of similar devices was 28.6 °C / 83.5 F (-8.6 °C / -15.5 F).
The high temperatures had us worried about possible throttling issues with the X230. Fortunately, performance from the Ivy Bridge CPU was buttery smooth during our stress tests.
With Prime95 and HWiNFO64, we were able to both simulate maximum CPU stress and monitor CPU condition. Here, the i5-3320M maintained its Turbo Boost of 3.1GHz throughout the test and never faltered. Similarly with FurMark, the integrated GPU jumped from its idle state of 350MHz to its maximum 1200MHz speed without any hitches or drops for the duration of the stress test. CPU and GPU temperatures stabilized at around a respectable 80 to 83 degrees C each during testing.
Next, we stressed the system with both Prime95 and FurMark simultaneously for a full two hours. Surprisingly, both the CPU and GPU were able to maintain their maximum Turbo Boost speeds of 3100MHz and 1200MHz, respectively. In other words, stressing one component did not appear to inversely affect the performance of the other. This is in stark contrast to many Sandy Bridge notebooks as stressing both the CPU and GPU can notably decrease maximum benefits from Turbo Boost. However, we did notice that core temperatures were reaching quite close to 90 degrees C in our X230 and may even reach higher temperatures in more humid conditions.
To confirm any presence of throttling, we ran 3DMark 06 a second time immediately after stress testing with very similar final results. The X230 experienced not a single hint of throttling under our test conditions.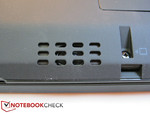 Speaker grille
Speakers
The surprisingly impressive speakers of the recently reviewed Samsung Series 9 900X3B had since raised our expectations on speaker performance from ultrathin or portable subnotebooks. Unfortunately, sound quality from the X230 are nothing to write home about.
Similar to the ThinkPad X121e, X130e and X220 before it, the dual speakers of the X230 lie underneath the front edge and are angled towards the desk instead of facing directly at the user. Music quality from the system is subpar – tones feel uneven, bass is minimal, range is limited and distortion becomes noticeable at greater volumes. Maximum volume is not incredibly loud, but is certainly loud enough to fill a quiet conference room. The speakers do their job adequately for its target audience, but headphones or external speaker solutions will be a must for extended movie sessions or music buffs.
Our review model is equipped with a 6-cell 63Whr Li-ion battery module that promises up to 9.9 hours of use. As usual, Lenovo offers smaller and larger battery size options from 4-cells (29Whr) all the way to 9-cells (94Whr) for up to 14.8 hours of battery life. A secondary 6-cell (57Whr) Slice Battery is available as well and can provide up to 24.9 hours of battery life if used simultaneously with the 9-cell primary battery.
We put Lenovo's claim of a 9.9 hour runtime to the test with the Reader's Test in BatteryEater. We set the brightness of the X230 to the minimum and disabled sleep and WiFi prior to initiating the test. Under these conditions and on the "Energy Saver" profile, the notebook lasted for an impressive 10 hours and 4 minutes before shutting down. In other words, the promise of a 9.9 hour battery life is pretty much spot on, but you'd have to be doing literally nothing on the notebook for the entire duration.
For minimum battery life, we set the X230 to the "Maximum Performance" profile with maximum brightness and enabled WiFi. With the BatteryEater Classic Test, the system was able to last for 1 hour and 41 minutes before automatic shutdown.
A more real-world battery test was performed under the "Balanced" profile at about 60 percent screen brightness (~150 cd/m2). We then ran our standard script to simulate typical online surfing conditions with the occasional Flash videos. The notebook finally shut down after about 5 and a half hours.
Compared to its predecessor, the X230 lasts about 30 minutes to an hour longer across the board with its 6-cell module. The difference may be largely attributed to the more power efficient 22nm CPU — Just don't expect multiple hours of increased runtime due to the Sandy Bridge die shrink. Nevertheless, the X230 improves upon the already impressive battery life of the X220 without increasing cell count and weight. Similarly-sized competitors like the 2011 MacBook Air, Samsung Series 4 and Dell Latitude E6220 all fare a bit worse when comparing battery life.
Battery Runtime
| | | |
| --- | --- | --- |
| Idle (without WLAN, min brightness) | | 10h 04min |
| WiFi Surfing | | 5h 29min |
| Load (maximum brightness) | | 1h 41min |
Warning: No power consumption data found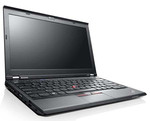 ThinkPad X230
We praised the X220 for its sturdy case, fast performance, premium IPS display, extensive connectivity options and long battery life, but we also noted some unfortunate drawbacks like CPU throttling issues, subpar VGA quality and a warping case. Has the X230 fixed these issues or has it introduced more unanticipated problems along the way?
Fortunately, the 2012 refresh shows none of the hardware problems that plagued the original X220. The VGA port works as intended and we ran into no warping issues under broad daylight. The 3rd generation Core i5 CPU inside provides even faster performance than its predecessor while having longer battery life and resolving the throttling issues found on the former model. If anything, the X230 is a testament to the tangible improvements that the new Ivy Bridge generation will bring to subnotebooks yet to be released.
Still, there is room for improvement. Surface temperatures appear to be quite warm even at idle, the touchpad click keys could have been more firm and we believe that the display could have been brighter overall. Luckily, the IPS panel easily overshadows any of the small drawbacks of the screen. We highly recommend going for the IPS display option for this reason as a 200-nit TN panel would be only barely acceptable for bright outdoor use.
But at the end of the day, it's the changes to the input devices that will have potential buyers raising red flags. ThinkPad veterans will undoubtedly approach the new keyboard with caution while other users fresh to the Thinkpad series will simply become accustomed to the new Chiclet design. After spending some time with the X230, we can say that the typing experience can be a little different for longtime ThinkPad users, but it is ultimately something that users must try first-hand before judging. After becoming habituated with the keyboard, you'll find the very familiar but upgraded ThinkPad underneath that made the original X220 so popular in the first place.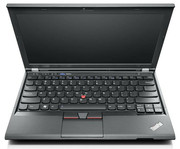 In Review: Lenovo ThinkPad X230
Specifications
Memory
4096 MB
, 862.6 MHz Single-Channel 11-11-11-28 timing
Display
12.5 inch 16:9, 1366 x 768 pixel, LP125WH2-SLB1, IPS, glossy: no
Mainboard
Intel QM77 (Panther Point)
Storage
Hitachi Travelstar Z7K500 HTS725032A7E630, 320 GB
, 7200 rpm
Soundcard
Intel Panther Point PCH – High Definition Audio Controller
Connections
1 Express Card 54mm, 1 USB 2.0, 2 USB 3.0 / 3.1 Gen1, 1 VGA, 1 DisplayPort, 1 Kensington Lock, 1 Docking Station Port, Audio Connections: 3.5mm combo, Card Reader: 4-in-1 (SD/SDHC/SDXC/MMC), 1 Fingerprint Reader
Networking
Intel 82579LM Gigabit Network Connection (10/100/1000MBit), Intel Centrino Wireless-N 2200 (b/g/n), Bluetooth 4.0
Size
height x width x depth (in mm): 26.6 x 305 x 206.5 ( = 1.05 x 12.01 x 8.13 in)
Operating System
Microsoft Windows 7 Professional 64 Bit
Camera
Webcam: Low-Light 720p HD camera with Face Tracking
Additional features
Norton Security 2012, Microsoft Office 2010, Adobe Acrobat Reader, Skype, Windows Live Essential 2011, Intel Learning Series Software Suite
Weight
1.35 kg ( = 47.62 oz / 2.98 pounds), Power Supply: 230 g ( = 8.11 oz / 0.51 pounds)
Similar devices from a different Manufacturer
Devices from a different Manufacturer and/or with a different CPU
Devices with the same GPU
| | |
| --- | --- |
| + | Impressive CPU performance with Ivy Bridge |
| + | Improved battery life over the original |
| + | Slimmer profile with the same build quality as the thicker X220 |
| + | No CPU or GPU throttling |
| + | Easily upgradeable and expandable |
| + | Many available ports (USB 3.0 now standard) and wireless options |
| + | Wide viewing angles from IPS display |
| + | Great outdoor usability |
| + | More streamlined Chiclet keyboard |
| – | Tight positioning of physical ports |
| – | Relatively high idle and load surface temperatures |
| – | Slightly louder fan noise at full stress compared to X220 |
| – | Spongy touchpad click keys |
| – | Average multi-touch performance |
| – | Poor speakers |
| – | Precision Keyboard will be hit or miss with many hardcore ThinkPad users |
What we like
With an IPS display and a 3rd generation Intel Core ix CPU, the X230 is on the top of its size class with CPU performance rivaling many larger and higher-end Sandy Bridge notebooks. Combined with its long battery life and vast connectivity features, this ThinkPad is a serious contender for anyone looking into a business-class sub 13-inch portable notebook.
What we'd like to see
Although the Precision Keyboard has its benefits, we can't help but feel that both the new Chiclet and old beveled styles have their own pros and cons. An option for "Precision" or "Classic" would satisfy many fans. In general, we would like to see lower temperatures and perhaps an improved touchpad in future models.
What surprises us
The stellar CPU performance means the X230 is capable of heavier tasks that its small size would otherwise suggest. Users can also play modern 3D games in low settings, which while visually unimpressive, is considered a great boon in a notebook this size.
The competition
Samsung 900X3B, MacBook Air 2011, Asus P31F, HP Elitebook 2560p, Fujitsu Lifebook S761, Samsung Series 4, Dell Latitude E6320/E6220, Asus UX31, HP Folio 13, Toshiba Z830
Lenovo ThinkPad X230 – 2012-05-3105/31/2012 v2(old)
Allen Ngo
Application Performance
91%
Subnotebook – Weighted Average
Allen Ngo, 2012-05-31 (Update: 2019-04-30)

After graduating with a B.S. in environmental hydrodynamics from the University of California, I studied reactor physics to become licensed by the U.S. NRC to operate nuclear reactors. There's a striking level of appreciation you gain for everyday consumer electronics after working with modern nuclear reactivity systems astonishingly powered by computers from the 80s. When I'm not managing day-to-day activities and US review articles on Notebookcheck, you can catch me following the eSports scene and the latest gaming news.